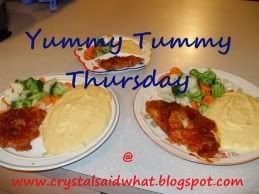 Pumpkin Bars
(from Laura, linked above at her new wordpress site)


I LOVED these! I cannot even begin to tell you how much! I have made them twice in the last 2 weeks once taking some to work and am making them again tonight to take to mom's night out bunco tomorrow night! I am also taking them to thanksgiving dinner with the fam. The best part is they are cheap to make, make a large amount and easy to make and you have most the ingredients in your pantry already. I have used 2 tubs store bought cream cheese frosting but if you want to use a cream cheese frosting recipe Laura has one in the link above. Well I want to fatten myself up some more so I did chocolate chips over the entire thing and also cream cheese frosting over that. If chocolate is not your thing nuts would be a great addition.

I also do not have a jelly roll pan so what I ended up doing was a small layer in a 13 x 9 baking metal sheet/pan I got from pillsbury a little bigger layer in a 13 x 9 glass cake pan and same size layer in a 9 x 9 glass pan. Seriously it makes that much lol. I'm sure you could modify this recipe in half and use a 13 x 9 pan if you do not want that many bars. Also if you do a smaller layer or a metal pan I'd advise only 20 minutes in the oven. I set the timer for 20minutes and took the metal pan out and then left the 2 glass ones in for 10-15 additonal minutes.


Ingredients~

6 eggs
1 1/2 cup oil (I used canola)
3 cups sugar
1 1/2 tsp vanilla
1 large can (29 oz) pumpkin (or 2 15oz cans)
3 1/4 cup flour
1 1/2 tsp. baking soda
1 Tbsp cinnamon
1 1/2 tsp. salt
(chocolate chips or cream cheese frosting or both in my case)
Directions~

Mix together eggs, oil, sugar, vanilla, and pumpkin. Fold in dry ingredients and pour into jelly roll pan (13 x 18 pan) . At this point sprinkle the pan with chocolate chips and/or nuts if desired. Bake at 350 for 30 to 40 minutes until a toothpick inserted in the center comes out clean. Do not over bake. Frost with cream cheese frosting.