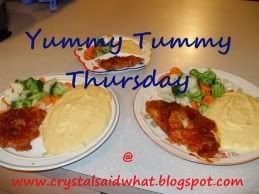 Did ya miss me??


Peanut and Almond Butter Truffle Brownies
(Inspired by Laura :-D, although doing 1/2 peanut and 1/2 almond butter was my curious twist!)
These were very yummy! I think they were almost 10 times better after they were in the fridge for a few days.. I had forgotten about them.. forgot about chocolate?? I know OMG that shouldn't be possible..anyway and I took them out after 4 days in the fridge and put them out on the counter and I seriously couldn't stop eating them.. MUCH better then the first day with little refrigeration! I do have to say I enjoyed the peanut butter ones more I think but both were tasty!
Ingredients~


Brownie Base
1 box (1 lb 6.5 oz) Betty Crocker® Original Supreme brownie mix
Water, vegetable oil and eggs called for on brownie mix box


Filling
(I split this in half for each 1/2 of almond and peanut butters, so I used 1/4 butter, 1/4 peanut butter, 1 cup powdered sugar and 1 teaspoon milk and did the same but with almond butter for the other half)
1/2 cup butter, softened
1/2 cup creamy peanut butter
2 cups powdered sugar
2 teaspoons milk
Topping
1 cup semisweet chocolate chips
1/4 cup butter
Directions~

Heat oven to 350°F. Grease bottom only of 13x9-inch pan with cooking spray or shortening. (For easier cutting, line pan with foil, then grease foil on bottom only of pan. I do this all the time when I make brownies and bars)In medium bowl, stir brownie mix, pouch of chocolate syrup, water, oil and eggs until well blended. Spread in pan. Bake 28 to 30 minutes or until toothpick inserted 2 inches from side of pan comes out almost clean. Cool completely, about 1 hour.
In medium bowl, beat filling ingredients with electric mixer on medium speed until smooth. Spread mixture evenly over brownie base.
In small microwavable bowl, microwave topping ingredients uncovered on High 30 to 60 seconds; stir until smooth. Cool 10 minutes; spread over filling.
Refrigerate about 30 minutes or until set (I think they should be refrigerated for at least a few hours for optimal flavor!). For brownies, cut into 9 rows by 4 rows. Store covered in refrigerator. (I take it out or the fridge about 15 minutes before serving. This allows the chocolate on top to soften a little)