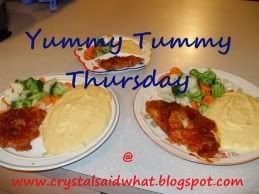 Crockpot BBQ Chicken
I actually found this on allrecipes and was searching for another recipe on Laura's site after I made this and found she had made it previously too! I really really loved this over rice, Laura made hers a sandwich. Rarely do I find a recipe that I LOVE and will keep in my go to recipes but this is now certainly one of them and was very simple and delicious! And an added bonus for me anyway, anyone that knows me knows that I can't stand fat on meat if I bite into it I will lose my appetite. Really its the main reason I mostly stay away from steak.. especially Prime Rib YUCK and from sauce covered chicken because I cannot SEE the fat to avoid it. Well the shredding made it so that I could easily take just meat and leave the fat off entirely! Big BONUS for me lol.
Ingredients~
4-6 frozen skinless, boneless chicken breast halves
1 (12 ounce) bottle barbeque sauce (I didnt have a whole bottle maybe 1/2 to 3/4 but I only had 3 breasts so it was enough, I used Original Kraft)
1/2 cup Italian salad dressing (I used Kraft roasted red pepper italian with parmasean dressing)
1/4 cup brown sugar
2 tablespoons Worcestershire sauce

Directions~

Place chicken in a slow cooker. In a bowl, mix the barbeque sauce, Italian salad dressing, brown sugar, and Worcestershire sauce. Pour over the chicken.
Cover, and cook 3 to 4 hours on High or 6 to 8 hours on Low.