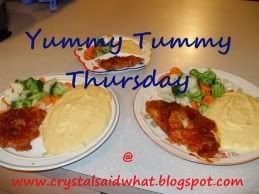 Easy Fruit Dip

From Laura linked above.
I made this dip awhile back to serve as a dessert platter after dinner for everyone it was ALOT of food and fed us for 3 desserts I think lol.. I just chopped a new banana to serve each time as that was what was eaten the most..I served it with strawberries, grapes, bananas and apples but you can serve with whatever fruit you prefer. The kids loved it minus the strawberries.. they are weird kids and don't eat strawberries. I am making it again this weekend to take to our family reunion.
Ingredients~

1 (8 oz.) tub of strawberry or pineapple soft-style cream cheese (i'm sure you can use any flavored cream cheese I used strawberry)
1 (7 oz.) jar of marshmallow creme
1 tablespoon orange juice
1 tablespoon lemon juice

Directions~

In a mixing bowl, beat together ingredients until smooth. Refrigerate before serving. Serve with fresh fruit. Makes 2 cups.