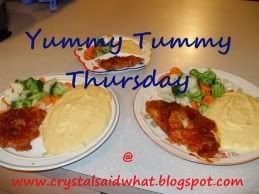 Freezer Breakfast Burritos
(from Laura)


I have made breakfast burritos before lots of times but have never frozen them, have only made bulk and frozen french toast and pancakes in the past but I love breakfast burritos and I am lazy in the morning :-). These burritos can be made to your liking, adding optional items to the basic list below. Optional ingredients: Ham, Hashbrowns (shred or cube), tomatoes, peppers, salsa etc. I personally made some varying kinds adding tomatoes and peppers and hasbrowns to some of them.. but all had the ingredients below. I don't add salsa in the mix but use salsa when I eat them.
Ingredients~

12 eggs, beaten
1 lb bulk (Preferrably Jimmy Dean) sausage, cooked (or crumbled links)
2 cups cheddar cheese, shredded
12 flour tortillas
Directions~

Scramble eggs in large skillet until done and remove from heat; stir in cooked sausage and shredded cheese. Warm tortillas in microwave 20-30 seconds or until warm and flexible. Place 1/2 cup egg mixture into tortilla; roll burrito-style.Freeze burritos in single layer on a cookie sheet. When fully frozen (in about 1 hour) place burritos in large zip-top freezer bag; freeze.TO SERVE: Wrap in a paper towel.Cook in microwave until heated through (about 1 1/2 to 2 minutes).