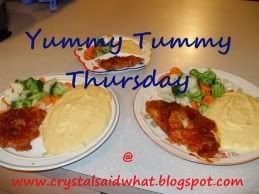 Chicken and Spinach Enchilada's
So I had taken out chicken and wasn't sure what to make with it. I got tired of the usual baked chicken with italian dressing..was thinking maybe chicken parmigiana but I remembered and I had baby spinach that needed to be used soon so I went searching for a recipe that used both of those ingredients and ingredients already in my kitchen. And I found Chicken and Spinach Enchilada's! (linked above from allrecipes.com) I was intrigued and it was so yummy.
Ingredients~
(my variations in BLUE)

4 boneless skinless chicken breast halves, cut into thin strips
(

I used 3 boneless skinless chicken breasts

)
1/4 cup chopped onion
1 (10 ounce) package frozen chopped spinach, thawed and well drained
(

I used baby spinach and I just eyeballed the amount I am pretty sure I used less then called for.)


1 (10.75 ounce) can condensed cream of mushroom soup, undiluted
3/4 cup milk
1 cup sour cream
1 teaspoon ground nutmeg
1 teaspoon garlic powder
1 teaspoon onion powder
2 cups shredded mozzarella cheese
8 (8 inch) flour tortillas
1 Can of Rotel (petite diced tomato w/green peppers)


Minced fresh parsley
(

I omitted parsley.. didn't have any

)


Directions ~

Coat a large skillet with nonstick cooking spray; cook and stir chicken and onion over medium heat for 6-8 minutes or until chicken is no longer pink. Remove from the heat; add spinach and mix well. In a bowl, combine soup, milk, sour cream and seasonings; mix well. Stir 3/4 cup into chicken and spinach mixture. Divide evenly among tortillas. Roll up and place, seam side down, in a 13-in. x 9-in. x 2-in. baking pan that has been sprayed with nonstick cooking spray. Pour the remaining soup mixture over enchiladas. Cover and bake at 350 degrees F for 30 minutes. Uncover and sprinkle with cheese and

can of rotel

; return to the oven for 15 minutes or until cheese is melted and bubbly. Garnish with parsley.