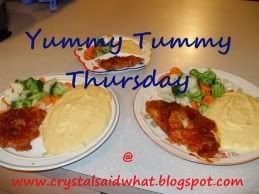 Rootbeer Float Cake

I got this recipe from Laura again (linked above), I can't resist a cake! Thanks Laura

She used mug, I used A & W. The cake batter is runnier then normal don't let it scare you it makes YUMMY cake.. The frosting too. Laura said she would let it cool more next time before putting on the frosting but I think I would do it the same again, it did run off the cake but thats okay I scooped up the extra frosting which almost has the consistency of donut glaze maple bar anyone? and just put it on my plate too, I don't care if it's pretty I am just inpatient and I actually prefer my cake to be warm lol.. I didn't get a picture of a single piece of cake..or the actual making of the batter.. sorry I am bad.

~Cake~

Ingredients:
1 (18.25-ounce) package German chocolate cake mix
1 1/4 cups root beer (not diet)
1/4 cup vegetable oil
2 large eggs

Preparation:
Combine first 4 ingredients in a mixing bowl. Beat mixture at low speed with an electric mixer until dry ingredients are moistened. Pour batter into a greased and floured 13- x 9-inch pan.
Bake at 350° for 30 minutes or until a wooden pick inserted in center comes out clean. Cool cake 10 minutes. Spread Root Beer Frosting evenly over warm cake.
~Frosting~

Ingredients
1/2 cup butter or margarine
7 tablespoons root beer (not diet)
3 tablespoons unsweetened cocoa
1 (16-ounce) package powdered sugar
1 teaspoon vanilla extract

Preparation
Bring first 3 ingredients to a boil in a large saucepan over medium heat, stirring until butter melts. Remove from heat; whisk in powdered sugar and vanilla until smooth