Okay I know I am neglecting blogosphere... the kids have been sick, work, laziness, facebook etc.. all not good excuses but thats all you get.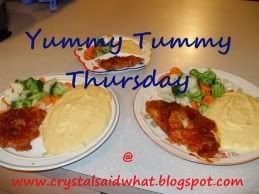 Easy Crockpot Chili


This recipe can be changed to your liking, it is just an easy basic recipe that I nearly always change up each time.. It is made from things you normally have in the pantry at any give time.


Ingredients~
2lbs Ground Meat (I used 1lb turkey with 1lb beef usually)
2 cans of Beans, whatever you prefer (I use one kidney, one pinto) DRAINED
1-2 cans of Tomato Sauce
1 can Diced Tomatoes
1 medium Onion
1 Green Bell Pepper
Celery
1 tsp Onion Powder
Chili Powder to taste
1 tsp Garlic Powder
Salt and Pepper to taste
I also add crushed red pepper to mine as well
Directions~
Brown meat. Add onion, celery and green pepper. Place all ingredients in crockpot and stir. Cook on low for 6-8 hours or high for 3-4 hours.