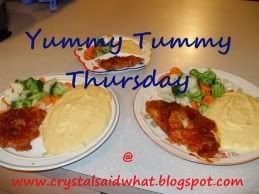 Ginger Ale Meatballs

(courtesy of laura at above link!)

Ingredients:

39 ( 1 1/2 pounds) frozen, fully cooked meatballs (I only use 1 pound, that was enough for my family of 5)
2 cups ginger ale
2 cups ketchup
1 teaspoon minced garlic

Directions:

Place frozen meatballs in a 3- to 4-quart slow cooker prepared with nonstick cooking spray. In a bowl, combine ginger ale, ketchup, and garlic. Pour mixture over meatballs. Cover and cook on low heat for 6-8 hours or on high heat for 3 hours. (I will cook them a bit longer next time, maybe I just have a weak crockpot lol but I like the sauce a little thicker, etc.) Serve with toothpicks as an appetizer, on hoagie buns, or over hot cooked noodles. (I have had them on sub shown here and brought as an appetizer to my moms bunko night). Dipping the sandwich in the a little bowl of the sauce is yummo!