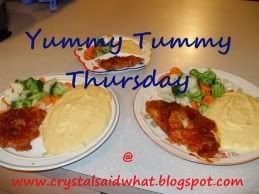 Now for the famous "chicken" (shh it's really pork) that Kaila gobbled up.. this from a kid that eats NOTHING! She was "helping" me cook and said that it looked like hashbrowns.. (you know the patty kind say at McDonald's.. don't tell me you don't know what I am talking about)
I served it with veggies and boxed four cheese corckscrew pasta mix.

I do have to say I made this like 2 weeks ago and it was delicious (as evidenced by Kaila eating it!) and made it again Tuesday night.. it wasn't as good Tuesday night. I over baked it.. and I think I used Olive Oil the first time.. I used Vegetable Oil Tuesday night and I think it made a huge difference, it was still okay but not nearly as moist or flavorful as before. Olive Oil is definitely better! Won't make that mistake again!
Link shows original inspiration (be sure to read the reviews to get ideas!)
Ingredients:
(straight from link above with my modifications in () below.)

2 eggs
1/2 teaspoon garlic powder
1/2 teaspoon onion powder
(Black Pepper)
3 (4 ounce) packets saltine crackers, crushed
(I used store brand Ritz crackers per the reviews, I hear potato chips work well too!)
3 tablespoons vegetable oil
(I strongly advise using Olive Oil :-D )
6-8 thin cut pork chops
(I used boneless thin cut as I always do)
Directions:
(again straight from link with my modifications in () below.)

Preheat the oven to 375 degrees F (190 degrees C).
In a shallow bowl or pie plate, whisk eggs with garlic powder and onion powder. Place cracker crumbs on a separate plate. Heat the oil in a large skillet over medium-high heat. Dip pork chops into the egg, then press in the cracker crumbs to coat. Fry in the hot oil for 2 to 3 minutes per side, just until golden brown. Remove to a baking sheet.
(I put the seasonings in with the cracker crumbs not the eggs)
Bake for 45 minutes in the preheated oven, turning once. Serve immediately.
(I had thin boneless chops and 45minutes is WAYY to long 15minutes should do it. I also do not turn and I broil for the last few minutes to get a little "crunch" but not burn/overcook it. I'd say 30 minutes for bone in.)