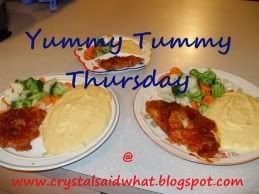 Spaghetti Pizza

The kids love spaghetti for the most part, Alana won't eat the sauce but I figured I would try it this way to see if she would eat it, because after all she likes pizza. She tried 2 bites and was done.. hey its better then nothin right? lol But Kaila loved it as did we! Think of it as a lasagna/baked spaghetti dish that kinda looks like a pizza! We served it with a simple salad!

Ingredients:
(straight from link above with my modifications in (). )
* 1 (8 ounce) package spaghetti *
(I used 16oz, I couldn't find 8oz.. hmm lol so I actually made double "pizzas" and had leftovers which were just as yummy!)
* 1 pound ground beef *
* 2 1/2 cups spaghetti sauce *
(I used one large can of spaghetti sauce, and one regular size can of tomato sauce blended with a cup of frozen peas and corn and italian herbs, parmesan and garlic powder.. gotta hide those veggies :-X)


* 1/2 cup grated Parmesan cheese *
(I used 1 cup since I doubled the pasta)


* 2 eggs, beaten *
(I used 4 since again I doubled the pasta)


* 3 slices processed American cheese *
(Again I doubled to 6 and I used cheddar cheese that I sliced myself)


* 1 (8 ounce) package shredded mozzarella cheese *
(Did not double this and it was plenty cheese :-).)

Instructions:

Preheat oven to 350 degrees F (175 degrees C).
Bring a large pot of lightly salted water to a boil. Add pasta and cook for 8 to 10 minutes or until al dente; drain.
Meanwhile, place ground beef in a large, deep skillet. Cook over medium high heat until evenly brown. Drain, crumble and combine with spaghetti sauce.
In a large bowl toss pasta with Parmesan cheese and eggs. Press into a 9-inch pie plate and spread sauce mixture over pasta. Top with American cheese and sprinkle with mozzarella.
Bake in preheated oven for 30 minutes. Let stand 5 minutes before cutting into wedges.
Sorry No Meat cooking picture but I am sure you all know what ground beef looks like noo? lol

You will notice the lighter "orangy brown" sauce in the middle is the tomato sauce I mixed with peas and carrots and spices in the blender.. once mixed in you can't tell the difference.
Adding parmesan to the sauce... we love it here!