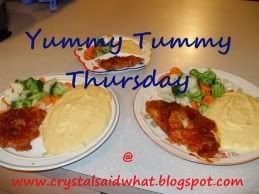 So I wanted some white country gravy for my breakfast (I like to pour it over my eggs, hashbrowns, etc) but didn't have any packet gravy..
I wanted it, pmsing I guess so I went searching for a basic recipe with stuff I already had. I made this recipe with a few changes to the original (that is linked), I subbed Butter for the Oil it called for and I also added a tiny tiny bit of garlic powder. I thought I was done but tasted it and it was too flour tasting for me, I remember reading someone that mentioned her mom used chicken stock in her gravy. I don't have any liquid stock but I did have bouillon cubes. So after I had finished making the gravy I put a cup of water and a bouillon cube in the microwave for a minute until it dissolved and mixed that into the gravy and it made the best gravy I have ever tasted I swear it! I wasn't planning on using this for a thursday post so I only have finished pictures.
INGREDIENTS:
**My changes in blue**

1/2 cup vegetable oil
(I used 1/2 cup butter)
3/4 cup all-purpose flour
1 teaspoon salt
1 teaspoon ground black pepper (to taste)
Dash Garlic Powder
4 cups milk
1 Cup Water
1 Chicken Bouillon Cube
DIRECTIONS:
**My changes in blue**
Heat the oil(or butter) in a large skillet over medium heat. Whisk in the flour, salt and pepper, garlic powder until smooth. Cook and stir over medium heat until browned, about 10 minutes (I think I did a little less). Gradually whisk in milk so that no lumps form, and continue cooking and stirring until thickened. (I cooked it until thicker then I like because it thins a bit with the chicken stock) If the gravy becomes too thick, you may thin it with a little more milk. (DO NOT add more milk if adding chicken stock/bouillon) Remove from heat. Heat water and bouillon cube in microwave for 1 minute or until dissolved, add to gravy.