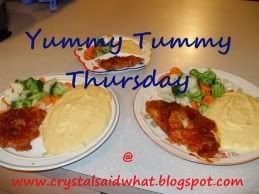 Compliments of Laura
(linked above)


This was really yummy but not sweet enough for me, I think it was just my peaches but they were kind of sour but it was still yummy. Next time I will cook a little longer I think and make sure the peaches are nice and ripe and use more cinnamon. I used 3 Ginger Snaps because I couldn't find the nabisco spice cookies at my grocery store and you know that was my favorite part.. I may try just grilling the cookies this way for an icecream topping!


For each dessert pocket:

3 Nabisco Classics Spice cinnamon cookies (Gingersnaps could be used too, but you'll probably only need 1 or 2. The Nabisco cookies are the size of Nilla wafers)
1 -2 peaches, sliced (the amount depends on the size of the peach)
1 tsp lemon juice
1 Tbsp sugar
cinnamon
1 Tbsp butter

Crumble cookie in a large piece of tin foil. In a bowl, mix the peach slices with the lemon juice. Place the peaches on the cookie crumbs and sprinkle sugar over peaches. Sprinkle with a little cinnamon and top with butter. Seal foil and place on grill on medium heat. Cook for 10 minutes. That's it! You could also top it with a scoop of ice cream or dollop of whipped cream when done.