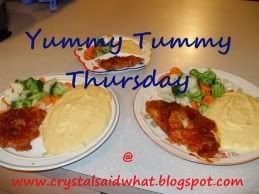 Okay I know that I have missed 2 of my Yummy Tummy Thursdays. I have decided to do it without the mister linky, since I don't have any takers yet that want to do it. If anyone does feel free to comment that you made one and feel free to use my "button". If more do it I will start using mr.linky again.
The first Thursday I missed because my mom was over and totally forgot to take pictures while we were cooking. Sue me. But we had mexican lasagna, rest assured it will probably be on here next week as its a popular dish here!
This last one I did take pictures but have been too busy...
entering bloggy giveaways
with kids. Plus it wasn't a favorite it was okay and you'd probably love it if casseroles are your thing but it didnt score high with the hubby, and scored just okay from me and I stole it from
here
. And followed it to the T. FYI I think it definitely needed some spices, maybe italian seasonings would make it better. Don't hold it against her, shes got some really yummy stuff on there! I am trying the dip she posted today next! Even though I have had cold versions of it, I want to try her hot version!
So since I didnt change it up at all I am just going to let you head to the link above for the directions and ingredients. And I am just posting my photos. :-)
Hubbys Favorite Casserole