So guess what? This post is a scheduled post..my first scheduled post. Let's see if it works like I plan lol.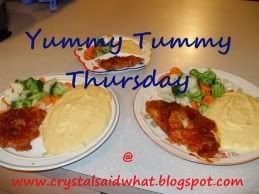 I decided to use Monday night as this weeks post. I made a classic dinner that I have made many a times. Its simple and most the time you have the ingredients right in your cupboards.
I made: Sloppy Joes... yes thats right a good old classic lol.
I got this very simple but DELICIOUS "recipe" some years back from a campbells soup recipe booklet. I have tried it with onions too and prefer it without them.
Sloppy Joes:
Ingredients~
1lb Ground Beef
1 Can Tomato Soup
Black Pepper
Salt (for fries)
Worchestshire Sauce
Hamburger Buns
Pam Cooking Spray (optional)
& Fresh or Frozen French Fries


Directions~
1 Brown Ground Beef
2 Mix in Soup (DO NOT ADD WATER), Pepper and Worchestshire sauce to taste (I am very generous with these as you will see in the photos, I like some spice :-). (dh gets a few peppers on his)
3 Cook over medium heat for 5-10 minutes to reduce the sauce
(While you are reducing the sauce spray Buns with Pam and place face down on pan to crisp them a little.. optional of course)
4 Scoop onto warm buns and serve.
I used frozen fries and deep fried them, but baking, or microwave works too! And fresh are delicious too which is actually what I do normally because I never have some but this time I did have some frozen :-).