Yummy Tummy Thursday
First installment of "mexican twists on american classics".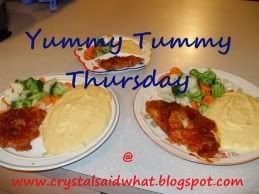 So today's post is:
I stuck to the book on this one (except for my meat) so I am just c&p from the linked recipe above. I served it with a dollop of sour cream and packaged spanish rice.
Ingredients:
2 pounds lean ground beef (I used 1lb turkey and 1lb beef)
1 (1.25 ounce) package taco seasoning mix
1 (16 ounce) can refried beans
4 (8 inch) flour tortillas
3/4 cup fresh salsa
1/2 cup shredded Cheddar cheese
Directions:
1. Preheat oven to 350 degrees F (175 degrees C).
2. In a medium bowl, mix thoroughly the ground beef and taco seasoning; set aside. In a medium saucepan, heat the refried beans over medium low heat until they are completely heated through. (I microwaved the beans I am lazy)
3. Place the ground beef mixture on a large piece of foil. Press the mixture into an approximately 1 inch thick square shape. Spread the refried beans evenly over the top of the flattened beef. Layer the flour tortillas on top of the refried beans, trimming the edges to fit the square. Layer tortillas with salsa and Cheddar cheese, staying 1/2 to 1 inch away from edges of the square.
Gently roll the layered beef into a Swiss roll shape, pressing and compacting the loaf as you go. Pinch and seal the edges. Wrap in the foil and seal. (rolling is not easy so be patient lol)
4. Bake in preheated oven 40 to 45 minutes, or until no longer pink in the center. Cut loaf in half to test for doneness, if necessary.