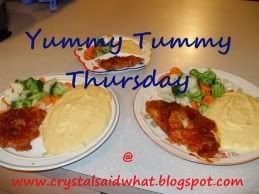 Another use for those salad dressings...
Monday's Dinner was.. (yes I decided to use Monday, and post early Thursday to allow others to post after me!). And besides tonight I AM get my mexican food for take out, I wanted it last night but had leftover spaghetti instead but I AM I AM getting it tonight dammit lol.
And the hardest of all.. Canned corn.
Ingredients/Instructions..
Honey Mustard Meatloaf~
I pretty much stick to the recipe on this one except I use regular onion not green onion. I also use 1lb turkey and 1/2lb or so beef. I put the honey mustard in the meatloaf as well as some on top while its baking and also serve it drizzled on top. I also add a drizzle of worchestire sauce in the mix. And I take the easy way out and use already made honey mustard.
Original Instructions~
1Preheat oven to 350 degrees.
2For meat loaves, combine first 7 ingredients in large bowl; mix lightly, but thoroughly. Shape meat mixture into 8 3x2-inch mini loaves; place in baking dish.
3Bake 30 to 35 minutes to medium doneness (160 degrees F) or until center is no longer pink and juices show no pink color.
4Let stand 5 minutes before serving.
5For sauce, combine mustard and honey, mix well. Serve sauce over meat loaves.
My Instructions~
1)Preheat oven to 400
2)Combine all ingredients (drizzle of Honeymustard or HM mix and dash of worchestire too)
3)I do not make miniloaves, I make one loaf. Form into loaf and drizzle honey mustard on top.
4)Bake for 45-80minutes or until doneness :-P. (I like it very well done)
5)Plate and drizzle cold honey mustard over meatloaf.
I know looks appetizing right?
Cheesy Ranch Potato Bake..


MY Ingredients~
4 Russet Potatoes chopped into cubes
2TBSP Olive Oil
1TBSP melted butter
(did not measured these, just little dashes to my taste level)
Chili powder, salt, pepper, dry herb soup mix, bread crumbs.
Ranch
8 ounces cheese (I used cheddar its all I had)

Original instructions~
Preheat oven to 400 degrees F (200 degrees C). Lightly grease a 9x13 inch baking dish.
Place the potatoes in the baking dish. Season with chili powder, salt, and pepper. Evenly distribute the butter over the potatoes.
Cover dish with aluminum foil, and bake 1 hour in the preheated oven, until potatoes are tender. Remove from oven, and mix in the cheese and Ranch dressing. Continue cooking 10 minutes, or until cheese is melted and bubbly.

MY instructions~
1Preheat to 400, grease dish/ use wax paper or foil
2Place potatoes, olive oil & butter in bag shake to coat, then place in bag the seasonings, shake to coat.
3Cover with foil and bake 1 hour (I would probably bake these less next time I like em a bit more cruncy)
4Remove and mix in cheese and ranch dressing, I didnt measure the ranch because it called for alot in the original recipe, looking back I would have added more then I did but still not what it called for. Also a tip I will try next time to add some cottage cheese in with the regular cheese. I think I will try it without the ranch or cheese!
5Bake 5-10 minutes and serve.
Cooked PHOTOS
I like mine well done and cook for the max time, I am that kinda girl any pink and I run lol.

Do you want to do a Yummy Tummy Thursday? and share with others? learn recipes and dinner ideas.. or just want to drool?

Yes you say?

Okay here is the rules...

You must link back to this original post (or the post of that Thursday by Muah), via the button or a straight url link.

There MUST be pictures of some sort.

You must list your recipe, ingredients, and instructions. You do not have to post an entire meal it can just be the main course/protein etc if you want.

You must link to the inspiration or starter/base recipe if one exists.

Add your name to mr.linky (for the current Thursday) when your post is done!